Sick of Being Normal – SPECIAL EVENT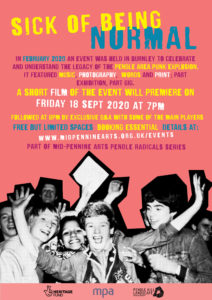 FILM PREMIERE & ONLINE EVENT
The premiere of the short film (16 mins) about SOBN and the event that happened back in February will take place from 7pm on Friday 18th. We hope you'll all watch it. The link for the film on Vimeo will be shared here and on our social media pages at 7pm:
At 8pm on the same evening there will be an online gathering of some of the main players from the SOBN project and the SOBN event in February, to talk about the ideas behind the project, how it fits into the wider Pendle Radicals programme and a chance for the audience to ask some questions. This is free of charge, but numbers are limited, and booking in advance is essential. You can register for the event HERE.
The running order for the evening will be:
| | |
| --- | --- |
| 8-8.30pm | Welcome & Introductions from Shonagh Ingram & Nick Hunt (MPA), followed by 'In Conversation' with Boff Whalley, Casey Orr and Stephen (Sage) Hartley about the project |
| 8.30-9pm | Q & A and reflections (and maybe the odd surprise) with Boff/Casey/Sage and the audience |
| 9-9.30pm | Open conversation |
The event will be on Zoom, and you will need to have Zoom downloaded onto your device to access the event. It's simple and free to do and a link is included in the registration confirmation email.
Please note that it is possible that 'colourful' language may feature in this event, please consider whether you should attend if this would offend you.