Sick of Being Normal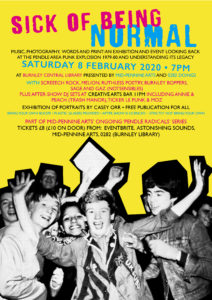 Music, photography, words and print: an exhibition and event looking back at the punk explosion in the Pendle Hill area in 1979-80. and understanding its legacy.
Part of the Pendle Radicals project, led by Mid Pennine Arts for the Pendle Hill Landscape Partnership.
Tickets £8 (£10 on door)
with Screeech Rock, MeLeon, Ruthless Poetry, Burnley Boppers,
Sage and Gaz (Not Sensibles)
plus after-show DJ sets at Creative Arts bar 11pm including Annie &
Peach (Trash Manor), Ticker le Punk & Moz
Exhibition of portraits by Casey Orr plus free publication for all ticket holders.
For further information and tickets please visit our Eventbrite page.