Rights, Riots And Routes – James Fox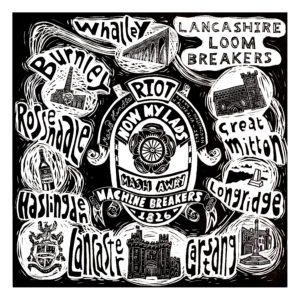 We are delighted once again to be part of the British Textile Biennial, which runs from 1-31 October 2021.
The tension between the industrialisation of cotton manufacturing and traditional cottage industry is the starting point for James Fox's new work that explores the history of protest and punishment via the Lancashire loombreaker riots of 1826. The installation at Helmshore Mill includes James' trademark hard-hitting embroideries and prints plus a new film collaboration with Maxine Peake presenting the tragic continuum of women's experience of the criminal justice system over two centuries.
Rights, Riots And Routes is a co-commission with the British Textile Biennial 2021, as part of our Pendle Radicals project. Read more about it HERE.