Our first podcast!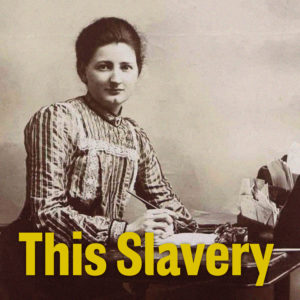 We're delighted to introduce our first Pendle Radicals podcast, created in partnership with Lancashire Libraries and Libraries Connected.  Put together by three of our Radicals contributors, the 3-part series is entitled This Slavery.  Published today (10 February 2021), the first episode is Pies, Chips & Politics.
Working class writer Ethel Carnie Holdsworth has been a favourite of the Radicals research group right from the start of the project. Her story is fascinating and multi-layered and our latest creative adventure is a podcast by broadcaster Elizabeth Robertson (aka Liz Catlow), writer/director Jules Gibb and sound engineer Scott Robertson.
The series looks at the novel This Slavery, published in 1925, a radical feminist and socialist tale of love, loss, poverty and politics.  The story concerns two sisters, mill-girls, whose lives are thrown into turmoil when a fire at the mill leaves them unemployed.
Through their story, ECH shows the reader the effects of poverty and unemployment, and suggests why there was a vibrant labour movement during this period.  It is a story of real  people, women and men, who took militant action against the factory system.
Find out more about this fascinating writer and her work by listening to episode one. This LINK will take you to it on Spotify, but you should also be able to find it on other platforms.  Don't forget to subscribe to get notification of when the next two episodes are available!