Sick of Being Normal – the Exhibition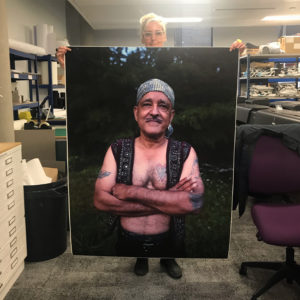 Sick of Being Normal is part of Mid Pennine Arts' project Pendle Radicals – which explores Pendle Hill's heritage of radical thinkers and non-conformists.
SOBN looks at the legacy of the East Lancashire/Pendle punk scene of 40 years ago. It was a hotbed of invigorating cultural activism that through its self-produced fanzines, its bands and its communally-run venues, created a region-wide community of people – many of them not much more than kids – who were able to seize their moment and, in doing so, change their lives forever.
Much of the retrospective literature of punk, written as history by London-centric music journalists, likes to claim that by 1979 punk had burned itself out; what they miss is a nationwide blaze of energy that was ignited from that initial Clash/Pistols spark and took hold in towns and villages across the land. Nowhere was this more evident than in the Pendle area, a gathering place for fanzine-makers, gig organisers, musicians, writers and artists.
By 1979 this ad-hoc, disorganised community had established itself not just as part of the local arts community but as a radical and dissenting voice in the region. Front page headlines in the local press were commonplace (MP Slams Obscene Punk Magazine!) and in early 1980, TV presenter Bob Greaves came over from Manchester to make a 30-minute TV documentary about this remarkable regional scene.
That was 40 years ago. To celebrate this anniversary our multi-talented team are organising a number of events to try and calculate punk's long-term impact on so many people from the region.
This exhibition features new photographic portraits of the Pendle area's Class of 1979 punks taken by award-winning photographer Casey Orr, whose work has been exhibited internationally. There is also a publication featuring interviews with twelve original Pendle punk participants by Stephen Hartley, founder member of Notsensibles (and author of recent memoir Painting Snails), and Boff Whalley (former songwriter with Chumbawamba, currently working with Welsh National Opera). Casey's striking portraits are juxtaposed with blow-ups of original creased, grainy prints from back in the day. The same portraits and images, blown up to near life-size, constitute the exhibition.