Burnley Canal Festival 2018
25-26 August 2018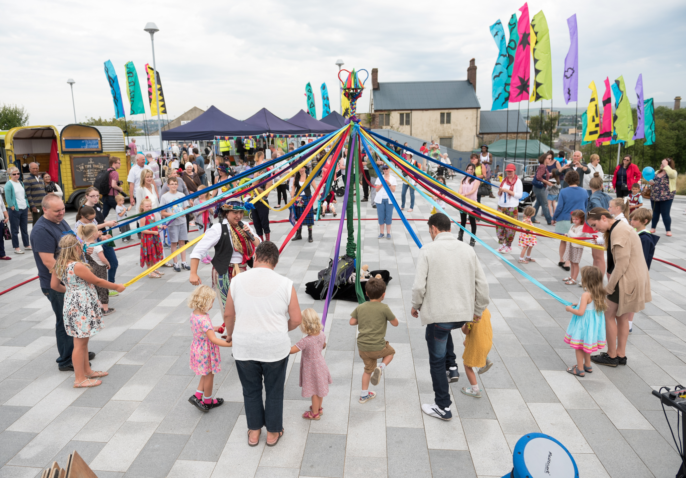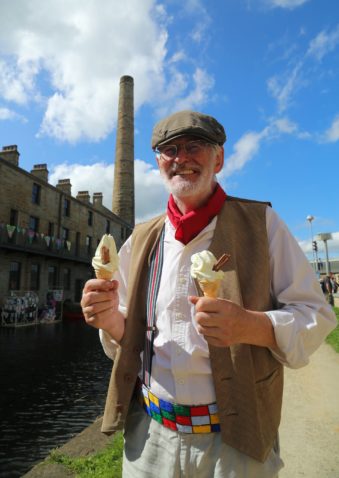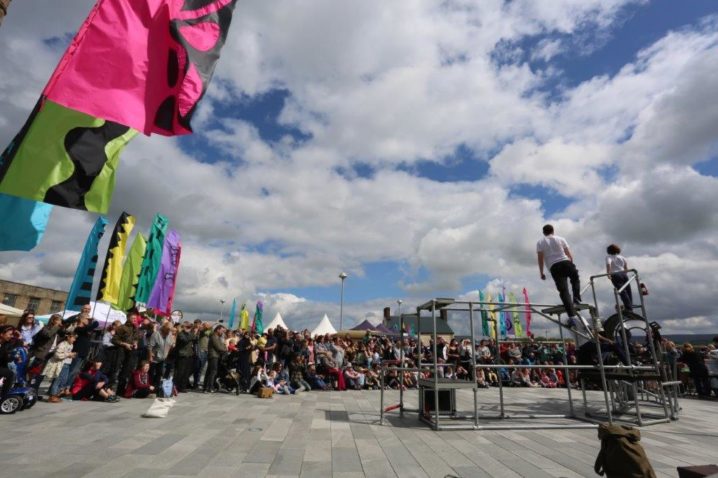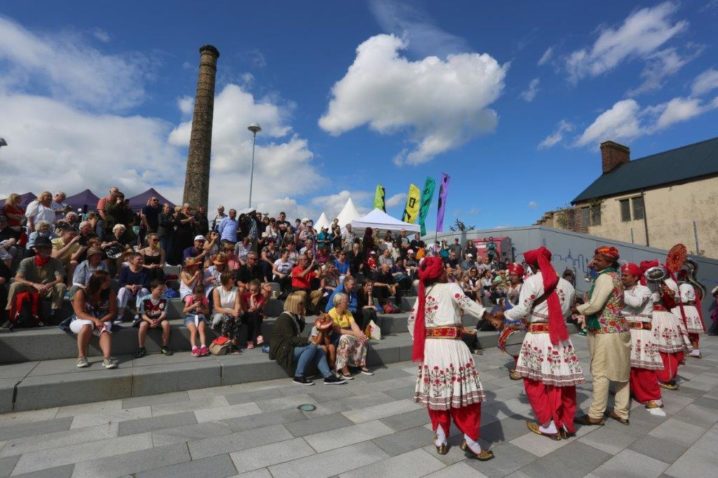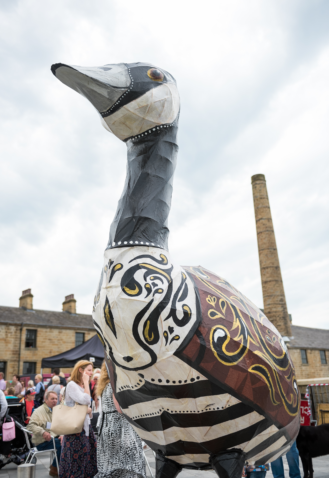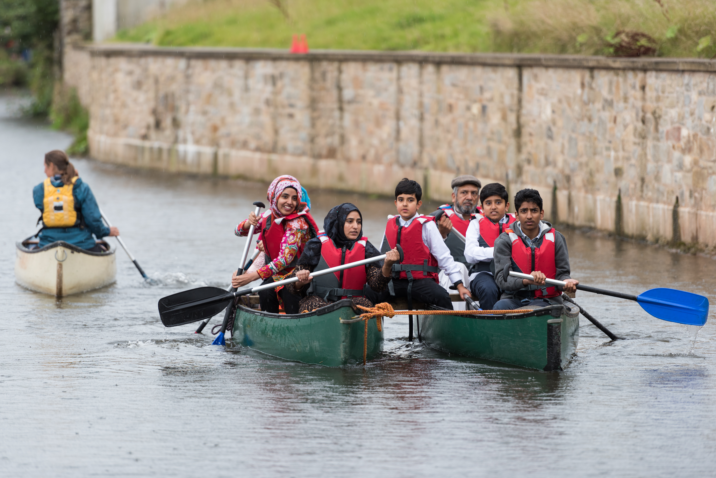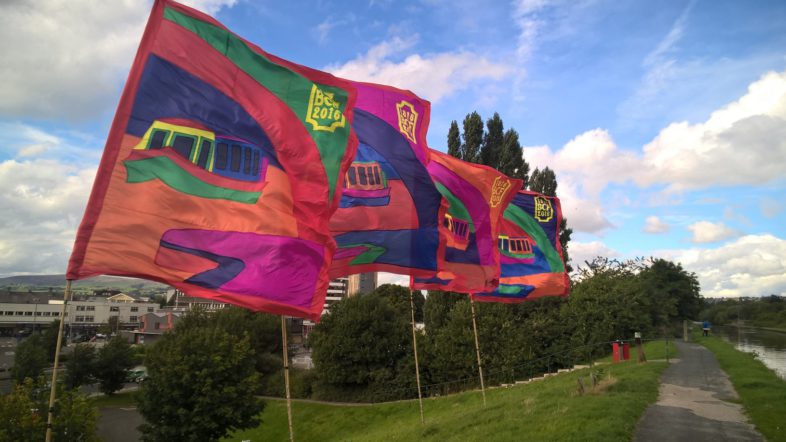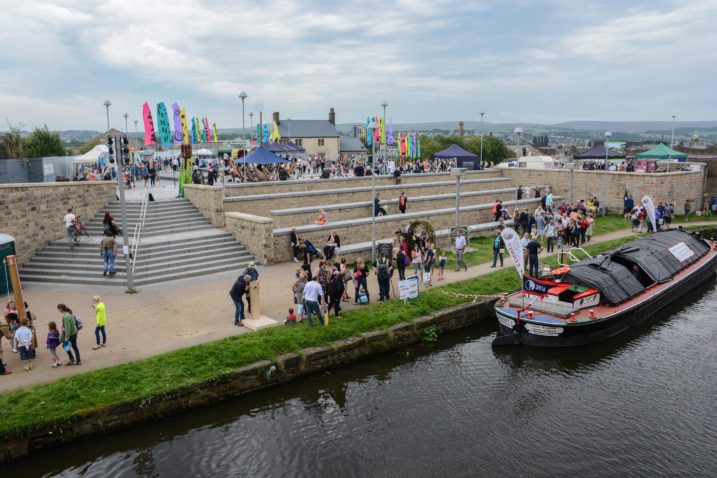 previous
next
Music Stage, Fabulous Travelling Machines, Towpath Explorers, International Performers…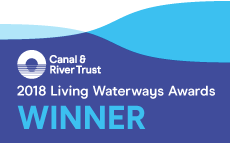 Sandygate in Burnley came to life again in August with vibrant performances, and magical family activities for Burnley Canal Festival 2018.  This dynamic celebration of Burnley's peerless canal heritage occupied its regular slot on Bank Holiday weekend.  The free family event ran over Saturday 25 and Sunday 26 August, as usual, and had a surprise or two…
With a beautifully sunny day on Saturday visitors enjoyed a full festival programme including the a full day of performances on the music stage, a huge range of have-a-go free workshops, a Towpath Explorers family quest and much more… A rainy Sunday saw as much as possible of the Festival move undercover at Victoria Mill, and although a quieter day (the weather really was horrible), the festivalgoers who came along had a relaxed and fun time enjoying all the performances, workshops, interactive games and more.
This year the Festival was focussed on an expanded site at Sandygate, Burnley.  The Festival Hub was on Sandygate Square, but activities stretched across the canal to the UCLan Canalside Carnival around and in Victoria Mill.  Along the towpath the very popular Towpath Explorers returned to take visitors on an adventure quest!
The Festival programme brings together canal traditions with contemporary performance, music, arts workshops and street food for a weekend of fun and relaxation.  A packed weekend, and completely free programme, ran from 11am-5pm on Saturday and 11am-4pm on Sunday.  Highlights included:
More Music Stage sponsored by AMS Neve. A glorious array of global sounds from grass roots to global artists.  An exceptional programme of incredible music including folk, blues, soul, reggae to name a few.  Over the two day programme visitors heard a world sound landscape to suit every musical palette. Including the Rajasthan Heritage Brass Band on Saturday, who brought their unique and diverse repertoire spanning Rajasthani folk songs, Bollywood hits, Bhangra beats and pop songs (you've not heard ABBA until you've heard these guys play it!).  These vividly costumed artists shared the joyous music that governs life in Rajasthan.
Visitors relaxed in hammocks on board LIFEBOAT, the slowest ride on Earth, and took journeys of the imagination, aboard the famous travelling machine Flycycle!
Festivalgoers took a paddle along the Leeds & Liverpool canal, courtesy of The Desmond Family Canoe Trail, and experienced the canal from a different perspective.
Victoria Mill opened its doors and UCLan invited visitors to try carnival themed activities in their new home.
There was fabulous street food, free arts and crafts workshops, children's fairground rides, a Victorian mill engine to visit and so much more.
And for those that love adventure, the Towpath Explorers devised an exciting game trail for all the family.
"Amazing event for children and adults alike. So many free activities for the kids. They absolutely loved it."  Festival attender, 2018
The Festival partners who made this 2018's free event possible:  New partners UCLan celebrated their move into the canalside by being the principal Festival Sponsor and also created an extra dimension of Festival fun at Victoria Mill.  AMS Neve sponsored the Music Stage allowing a two day programme of music this year.  The Calico Group, Burnley Bondholders, Burnley Borough Council, Barnfield & Burnley Developments and the Stocks Massey Bequest Fund complete the picture of the generous organisations who helped the Festival remain a free event.  Once again the Festival received fantastic support from Super Slow Way and from Canal & River Trust.  
Launched in 2012, the Canal Festival has grown each year, steered by volunteers and supported by partners including Burnley Council and Canal & River Trust.  The Festival is now a part of the Super Slow Way arts programme and is managed by Mid Pennine Arts, the charity based in Burnley canalside, and events company Deco Publique, creators of brilliant events like Blackburn's National Festival of Making, with the volunteers of the Festival Committee representing local communities.
"The best family event I have ever been to! We had the best day ever, lots of laughs, great chat, mega fun! We will be back next year! "
53.7886692-2.2521372999999585