No Match
Helmshore Mills, Rossendale 2012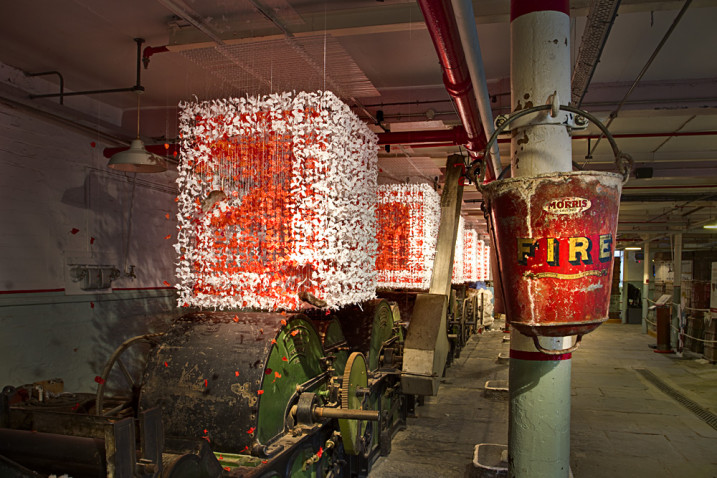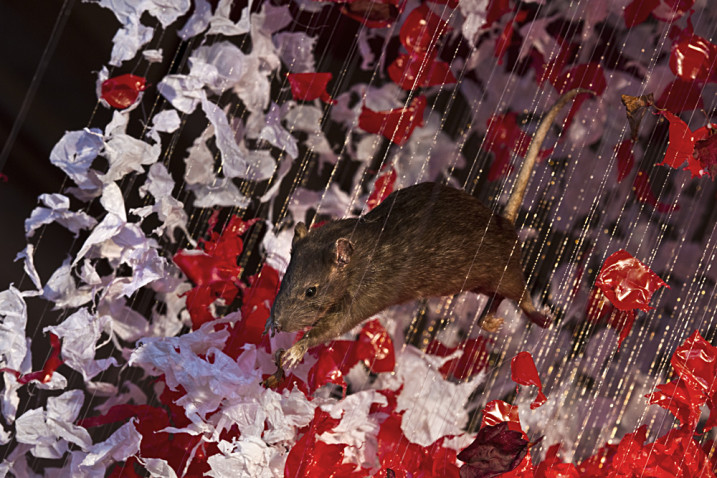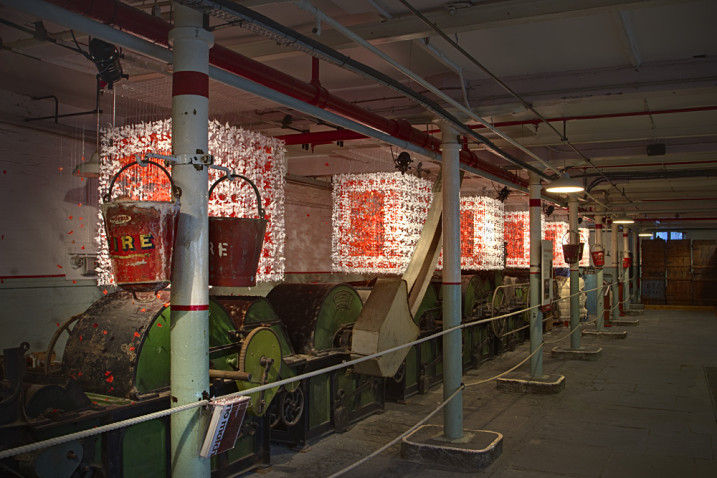 previous
next
No Match, created by international sculptor Claire Morgan, was a site specific installation inspired by Helmshore Mills and Claire's discoveries during her research residency there in October 2011. Claire spent time meeting ex-mill workers, reading accounts of their experiences and listening to recordings and found the mill workers held fond memories of the mill despite the daily hazards they had faced.
The installation was suspended in the Devil Hole, where danger arose from mans' attempt to harness natures power, through intense heat, noise, pressure, smoke, fire and frequently blood. Claire is fascinated by our relationship with nature, the passing of time and the transience of everything around us. There is a sense of fragility that carries through all her sculptures. "I feel as if they are somewhere between movement and stillness, and thus in possession of a certain energy."
No Match acknowledges the connection between man and machine, mill and environment, and the fragility of man, woman and child as they struggled to control nature.
"My idea for No Match came from my fascination with all the complex, repetitive, and really quite aggressive processes that occurred in the Devil Hole. I wanted to make something that traced the passage of nature through that dark, industrial space, and for me that could mean anything from the cotton, to workers, to fire, or even blood. The finished installation will hopefully acknowledge these things in an abstract but engaging way." Claire Morgan
Artist
Belfast born Claire Morgan currently lives and works in London. She graduated in 2003 with a first class degree in sculpture and has exhibited internationally, with solo exhibitions in the UK and Europe, and museum shows in the US and Australia.
Claire has won number of awards including the Royal British Society of Sculptors Annual Bursary Award, the Roy Noakes Award in 2004 and first prize in the International Competition for Young Sculptors, Milan (2006) for her sculpture, Red or Dead made of thousands of cherries.
The Fall, exhibited in 2008 was Claire's first solo outing in London. This was well received along with other solo exhibitions outside the capital including Periphery (UCA Farnham) and Gone With The Wind (The Laing Gallery, Newcastle) which featured ambitious new works on a large scale. Claire unveiled her first solo exhibition in France in 2010. Life. Blood, at Galerie Karsten Greve, Paris.
Claire's other exhibitions include Under The Sun, a solo exhibition at Galerie Karsten Greve, Cologne, Monanism, the inaugural exhibition at the Museum of Old and New Art in Tasmania, and Bestes, Bestiaux, et Bestioles, where a new large-scale sculpture was commissioned by Château D'Oiron, France.
You can read Claire's artist statement here.
For further information on Claire Morgan and her work visit her website. You can also follow her on facebook